A completely virtual Sugar Festival? Why not!
This year, the tapping of our maple trees was not done to give them a well-deserved break. However, the Vanier Museopark is proud to offer the people of Ottawa and the surrounding areas a slightly different edition of its traditional Sugar Festival:
What: A Virtual Sugar Festival
When: April 1 to 9, 2022
Where: monmuseoparc.ca/1
Plenty of surprises were unveiled daily during the 9 days of the Festival, including videos on the sugar season traditions as well as the history behind the Vanier Sugar Shack. You can still catch all of the videos of the 2022 Virtual Sugar Festival in a playlist on our YouTube channel.
Sugar Season Traditions and Origins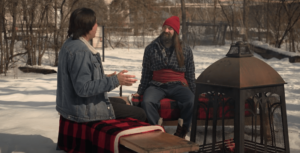 With Mario Bélisle, educator & program manager at the Vanier Museopark and Shledon McGregor, Algonquin consultant.